How to craft an engaging listing description
When you set up a profile on CustomMade, we give you great exposure to customers shopping via search engines such as Google and Bing. These visitors use keywords that ultimately bring them to a CustomMade webpage. Apply these guidelines to your listings to maximize your search engine visibility and increase your chances of being featured in CustomMade's hand-picked galleries and email marketing campaigns.
Give your listing a descriptive title. It is important to think like a customer when writing a title. Here's an example:
GOOD: Rustic Farmhouse Dining Table
BAD: Custom Dining Table
Identify the style and function of the item. Doing so clearly describes the product and increases the chance that your item will match one or more keywords that a customer uses to search for an item.

Aim for 60 characters or less so it wraps to no more than two lines in your listing.

If your listing includes customizable variations like metal, wood and stone variations, do not reference a single option in the title. This would create an apparent ordering limitation.
Write an engaging and detailed description. Your item's description is the best place to tell the story and inspiration behind the piece and give shoppers the details they're looking for.
We recommend breaking out your description into three main areas:
3-4 line overview description


Tell the piece's story. Include information about its materials and the skills and technique used to complete the piece. Also use language that indicates that the piece is made to order so it's clear this is not an off-the-shelf item.

Dimensions and Feature sections


For tables and furniture we suggest including a Dimensions section that includes the dimensions of the item shown and what other sizes it can be ordered in. For jewelry and other smaller items we recommend using a Features section. Both sections should include bullet points of material options, techniques used and any other details you find important. We also recommend including the below bullet to maintain consistency:
Shipping section
This section should include details such as the time it takes to ship, whether the item includes free shipping and any other details you find necessary. We recommend including shipping in your base price as you can then promote free shipping and this is very desirable for most customers. We also recommend adding the following lines to maintain consistency:
Make it yours by placing an order today

Made by <Your company and location>
Format your descriptions using CustomMade's standard convention.
Use line breaks when entering your information

Use all capitals to call attention to your sections - FEATURES, DIMENSIONS/FEATURES & SHIPPING

Use a "-" dash at the start of the bulleted information you add under your dimensions and features sections

Need an example? Here are two listings we think are great: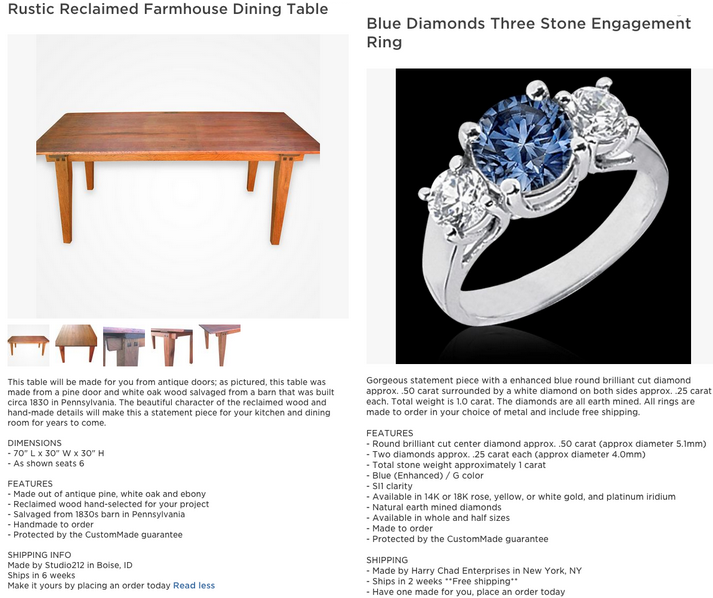 How to write an engaging business description that wins over customers
Nearly every customer looks at a maker's profile before deciding whether or not to work with them. In addition to providing quality listing photos, detailed listing descriptions and a clear, well-lit profile photo of yourself, describing your unique set of skills and qualifications is a key component of your maker profile, and many times your first chance to convince a customer that you a great maker to work with. Consider these tips when writing an effective company description:
Utilize the first person (I/we) point of view

Tell a story about yourself or your company that engages and inspires the customer

Be personable and engaging in your language and tone

Mention your professional training and certifications and why you are experienced in your field

Utilize layman's terms potential customers will understand

Describe the types of jobs you specialize in

Break your information into 3-4 discrete paragraphs to make the section easier to read
We recommend that you include three sections and a closing section in your Business Description section. Be as specific as you can when writing your about section. Instead of saying "I can make anything" say "I build dining tables, chairs and beds." The more specific you can be, the more search engine friendly your profile will be.
Introduction and qualifications
Tell the story of you and/or your company's origins

Explain your training and qualifications

Share details about your background and expertise that will instill trust in potential customers

Convey to potential customers that customer satisfaction is your highest priority and that you stand behind your work
Inspiration, technique and beliefs
Talk about your personal style, technique and preferred materials

Give examples of pieces you've completed and how you brought your personal style to the project or worked with a customer to merge your styles

Share your perspective/point of view. If you've designed your business to be eco-friendly, talk about that and why it's important to you. If you believe in using only conflict-free diamonds (or no diamonds at all), talk about why this matters to you. A personal point of view engages prospective customers better than the willingness to adopt their own point of view.
Your process and shipping or delivery methods.
Explain how you prefer to work. Mention how long things take to make; what type of communication to expect; and whether you start with sketches, models or swatches.

Describe how you ship your pieces. Include details such as insurance, shipping timelines and options you have such as gift boxes and delivery options you may offer in specific areas. Also indicate if customers should expect minor installation on site after receiving an item
Closing statement.
Sign this section as you would a friendly letter. This will engage your customers and give it a personal touch.
How can I tell customers that I'm away or otherwise unable to respond to messages?

You can set your maker account to show that you're temporarily unavailable if you'll be traveling or otherwise unable to respond to messages or able to take orders from customers. Just go to your account settings page and click the button by the green check mark in the "Available" section of the page.

When the indicator is green, your account is set as available and customers can contact you. When the indicator is white, your account has been set to unavailable and customers will not be able to contact you. While your account is set to unavailable, profile and listing pages will carry a message indicating that you're not currently available to respond.