There are two ways to have a custom item made just for you. The first method, directly below, is the easiest method and is done by selecting customization options directly through a maker's listing or simply purchasing the item as listed. The second option is further down this page.
1. First, find an item you want to customize by using the "Search" bar at the top of the CustomMade homepage or by exploring our numerous categories, collections and maker profiles. Once you find an item you like, click directly on its photo or description to access the listing.

2. Then select from the available drop down(s) which customization options, if any, you would like added to your piece. Some customization options (like material or size) may cost more and can increase the base cost of the item. Please note that some listings may not have any customization options. If this is the case, simply select your shipping location and skip to Step 4.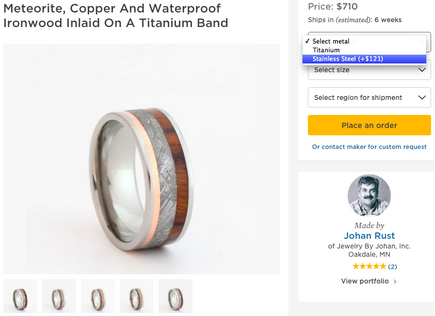 3. Once you have selected an option from every drop down, click "Place an order." Is there a customization option you're interested in that's not listed? Simply click "or contact maker for custom request" below the "Place an order" button to contact the maker directly about the piece. The maker will then reach out to you to you.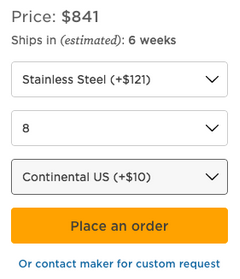 4. After you've clicked "Place an order," you'll be prompted to sign-up for a CustomMade account if you have not already done so. Simply enter your name, email address and password and then click "sign-up." After you've registered or signed into your account, enter your shipping and payment information and then review your order. Please note that every piece is handmade and that some items may take several weeks to complete.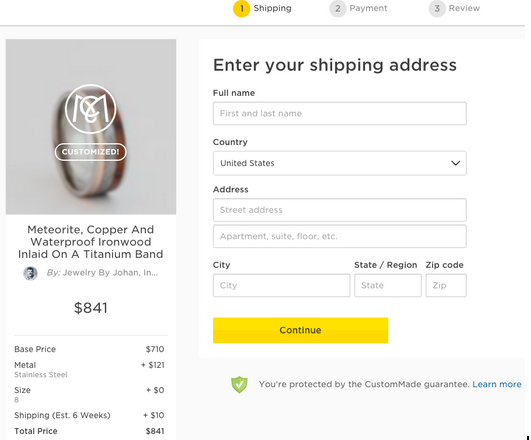 5. Once your purchase has been completed the maker will receive your order. They will begin working on the piece and often will send you photos of the item as they make progress towards completing it.
6. After the piece is completed the maker will take a photo of the item and ship it to you. Love it? Be sure to leave a review for your maker!
The second method of having a custom project made, involves submitting a project proposal for a fully customized item to our entire maker community. We encourage you to explore our numerous categories, collections and maker profiles for inspiration if you're not yet sure exactly what you would like to have made.
1. First click "Start a project" on the top right corner of the CustomMade homepage. Then select a category that fits the item you would like to have made.

2. Then complete this form by following the steps outlined below: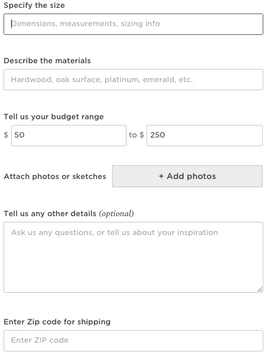 Use specific dimensions, measurements or sizing info. like "8' x 3' x 3'," "Seats 8 people" or "Size 7."
Be descriptive and include specific materials you're interested in like walnut wood, emerald stone or iron legs. If the object has multiple materials, list as many of them as possible to help the maker get a full understanding of what will be required to create the item.
Provide a budget range for your item. Note that prices will vary based on materials, design and labor.
Include photos that best represent your idea or images of various objects to help demonstrate different elements of your project.
Be specific about your preferred style, finishing touches and how your completed project will be used. If you're still in the 'concept' phase and seek project guidance or inspiration, include that information as well.
Include the ZIP code where the item should be shipped when completed.


3. Ready to send your project to makers? Review your project proposal and then select "Next."
What happens next?
Once you've posted your project, our community of makers will review your request. If a maker is interested in working with you, he or she will send you a message. Take a look at the maker's profile and determine whether or not they would be a good fit for your project. You can respond to messages from as many makers as you'd like. We encourage you to ask questions and clarify the details of your project with makers who seem suitable to you.
When you've decided to proceed with a maker, send them a message letting them know that you would like to review a proposal. The maker will then submit a proposal to you that includes pricing and delivery information. You'll be able to review the proposal before accepting or rejecting it. Once you've accepted a proposal, the maker will begin bringing your project to life.